East Forsyth High School, Kernersville, NC - Home of the Eagles
Class Of 1973

Register now for our 45th reunion. Log-on, and open the registration link displayed at top of homepage.
EFHS Class of '73

This site is a great way to reconnect to your school family.

Scroll the entire home page each visit

- as older posts may have been updated, or newer posts might fall below an older post.
March 3: Joyce Grubbs and Martha Whicker are our newest '73 members.
Joyce & Martha - hope to see you both at the 4/21 reunion.

March 10: Prayers to Ronda Folds & her family. Ronda's mother, Doris Folds, died March 9. See the family obituary link.
A memorial service will be held on May 5, 2018 at Union Grove Baptist Church (5424 Union Grove Rd., Oak Ridge) to celebrate the life of Everett Stigall, father of our K'ville Elem/K'ville Jr High classmates, twins Perry & Jerry Stigall. Once confirmed, this post will be updated with the time of the service.




(

updated 3/8/2018

A slideshow of Eagle visitors to Fitz.
*Members of the site can also view the photos from the Photo Gallery link. (you have to log-on to open the gallery)


Photos upload randomly each time you launch the home page.

Log-on and open the Message forum (left of home page) for a 2/21 message about the EFHS Hall of Fame
Feb. 1, 2018:

The below was taken from an article I found on the Internet:
Kernersville Little League was formed in 1961 by a group of devoted citizens . Playing on whatever fields were
available at the time, KLL won its first state title in 1971

The message below is from Wanda Nelson (Buddy's wife)
Wanda is helping the Kernersville Musuem with a K'vlle Little League exhibit - and is looking for any info you may have from your time on the fields, or on the bleachers.
The Museum is looking for anything you have about the Kernersville Little League. Scan and email your photos to me, or if you call me, I'll come and pick them up.
Or you can take photos, programs, trophies, uniforms, etc. by the Museum to get scanned and they'll give them right back to you. If you want to loan anything to the exhibit, you can sign a temporary loan form and the items will be returned to you.
Thanks!
Wanda Kirkman Nelson
Cell: 336.509.6617
Slideshow above = photos from the Misc. Pics album within the Photo Gallery link. (to add photos - open the Photo Gallery link - and then the Misc. Pics album. Your uploaded photos will become part of the slideshow) New photos added often - so view the slideshow each time you visit.
(Last update: 1/31/17)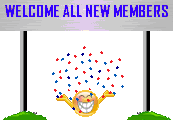 View the profile update box (right of home page) from time to time...names displayed represent either a new member, or an existing member who has updated their profile)

And did you know that from the Classmate profile link - you can click on "Show Eagle Photo" to see all our mugshots from our senior yearbook (you have to be logged on )